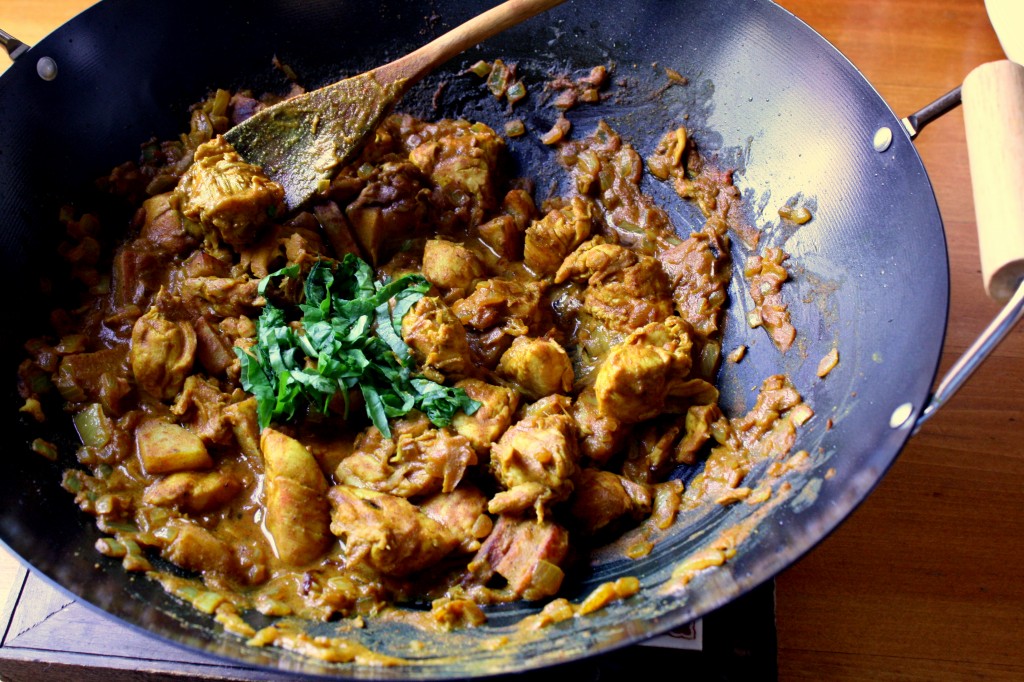 My mom got married when she was 22.  She had spent her youth in places like Bombay, Tokyo, and London, only to find herself hitched and living in a city with a population a few orders of magnitude smaller.  At the time, Columbia's vegetable offerings had a low ceiling — there were peas, cabbage, carrots, potatoes.  Lettuce was iceberg.  And cilantro was just a twinkle in some food exporter's eye.  
One day Columbia would turn into something special, a combination of college town and hippie crunchville that makes the food world easier to embrace from home.  But in 1979 the first meal she cooked in her kitchen was a staple dish: chicken and potatoes.  With a few spices from her suitcase thrown in.
Ingredients

2 to 2.5 lbs of chicken ( thigh portions are the tastiest but breast pieces will work too), skinned. Cut each thigh piece into two one with bone in and the other boneless.
2 medium onions, chopped fine.
4 Tbsp neutral oil (I use canola)
1 russet potato peeled and cut into 12 equal pieces
2tps. chili powder
2tps. turmeric
3 TBS. coriander powder
1 1/2 TBS. cumin powder
1 1/2 TBS. garlic powder
1 1/4 TBS ginger powder (for the spices, it's best to measure them out ahead and put them in a glass to add all at once)
1/4 TBS. salt
1/8 TBS. garam masala
1/2 cup plain yogurt
1/2 cup chopped cilantro
I used a wok for this but my mom uses a large skillet with high sides or a dutch oven.  On medium-high heat, brown the chicken pieces.  You're aiming to get the skin firm without fulling cooking the inside completely.  Once the chicken is brown on one side, use tongs to flip the chicken over.  When browned on both sides, place the chicken on a paper towel-lined plate.
Clean the cooking vessel, then fry the onions in the oil for 5 minutes on medium-high heat.  When they start to turn yellow, add the potatoes until they become slightly fried and translucent  (this is the express way — you can fry them on the side to make sure they are super crisp, as in the photo of the potatoes above).  Add the spices, fry for about 30 seconds, then add the chicken and then the yogurt.  Stew this on low, checking after 10 minutes to see if the biggest pieces of chicken have been cooked through.  Add salt and pepper to taste, then turn off the heat and add the cilantro.  As with all Indian dishes, this tastes better on day 2 than day 1.

Print This BA Recipe