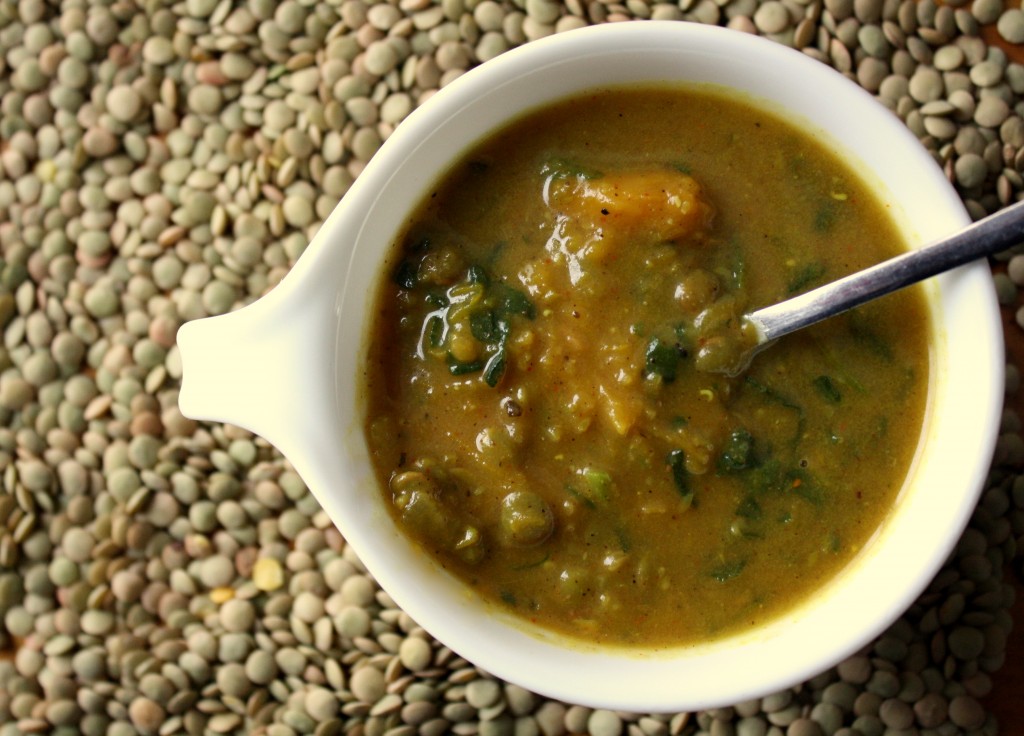 There's this soup at Falafel Cafe that I'm trying to imitate.  Every time I go there, the owners who feign familiarity with me wait patiently as I fixate on the lighted menu and bob about like a kid that needs to urinate.  I usually end up choosing this soup when I'm eating alone because it's just as stimulating as conversation–its deep heat of savory spices is slightly undermined by the sweetness of pumpkin, cinnamon, and nutmeg.
I think I got close with this recipe.  Admittedly it was a little sweeter, but I used a sweet potato rather than a regular one.  The spice list is prodigious, but if you used canned pumpkin the procedure is extremely simple.  Again, you can get scant amounts of all of these spices at The Food Co-Op.
Ingredients
1 sugar pumpkin, baked and diced (see below)
2 Tbsp olive oil
1 medium onion finely chopped
5 cloves garlic, finely chopped
2 tsp ground cumin
2 tsp ground ginger
2 tsp ground cardamom
1 tsp cinnamon
1 tsp ground allspice
1 tsp ground coriander
1 tsp ground nutmeg
1 tsp turmeric
1 tsp ground black pepper
1 tsp chili powder (or…2 Tbsp in my case)
4 cups chicken/vegetable stock
2 cups water
1 baking potato peeled and chopped
1 cup lentils
1 cup frozen chopped spinach
salt to taste
To prepare the pumpkin: Heat an oven to 400 and place the pumpkin on the middle rack in a pan for 30-40 minutes.  The pumpkin is ready when you can stick a dinner knife into it without too much struggle.  Let the pumpkin cool until you can handle it comfortably, then cut around and remove the stem, slice the pumpkin in half, scoop out the seeds/pulp, and remove the skin with your fingers.  Chop.  Orrrr…use canned pumpkin puree, a large can should do it.
For the soup: Heat the oil over a medium-sized skillet over medium-high heat.  Add the onion and stir until they become translucent.  Add the spices and stir until the onions are evenly coated.  Combine the spiced onions and the rest of the ingredients (except for the spinach) into a large pot and bring to a boil.  Reduce the heat to a simmer and cook for about 30 additional minutes.  At this point taste the broth to see how much salt you need.   After seasoning, transfer about 1/2 to 2/3 of the solid matter to a blender along with a little liquid to add some viscosity to your soup.  Combine this back into the soup.  Add the frozen spinach and stir until it thaws.  As with many things, this tastes better on day 2.
Sugarfree update: So the first years have their block 3 exams coming up next week.  The easiest thing to do would be to give them a sweet treat, but I'm a little wary of baking anything without being able to lick the bowl clean.  Buying candy at this point seems a little unethical.  Any suggestions?  One MS1 made dinner for Ari and me for our block exams…at least for him, a little quid pro quo is in order.

Print This BA Recipe