I'm on the phone with my dad, telling him about my most recent adventure in the kitchen.
me: "Hey Dad. I just made "No-Knead Bread" for the first time!"
dad: "If you don't need it, why did you make it? Hahahahaha."
This is just one of the many reasons why I love my dad.
(Anita's version of "No-Knead Bread" is available here.)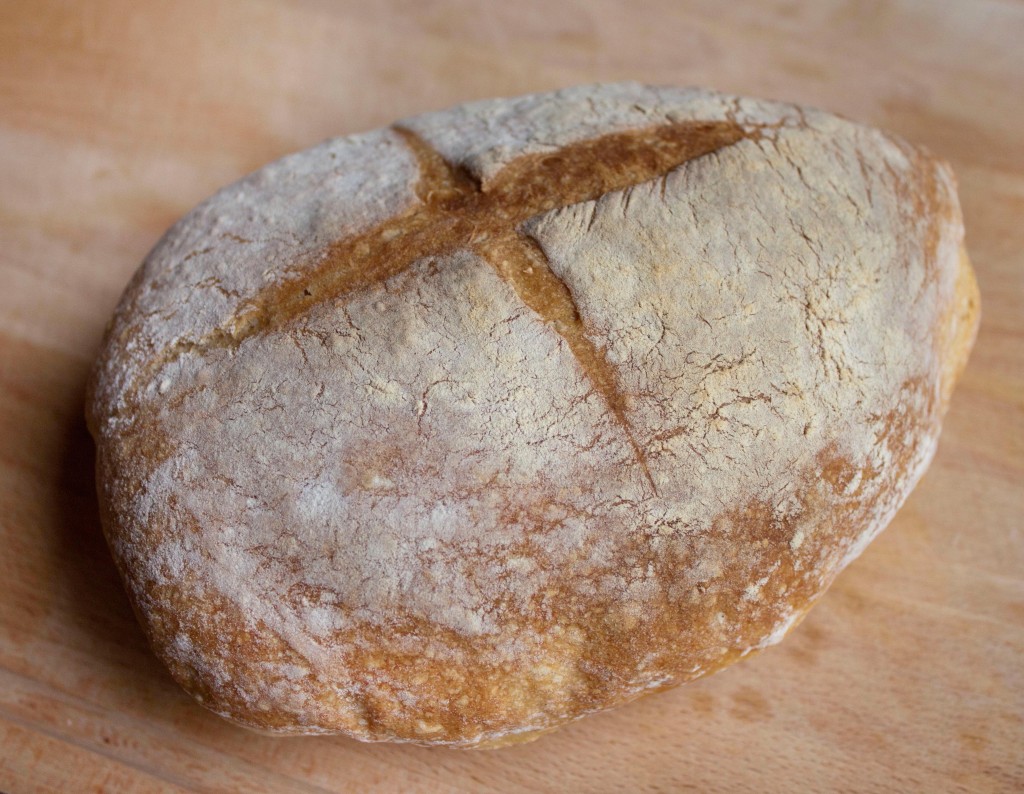 (Adapted from King Arthur's Flour "No-Knead Crusty White Bread")
What you need (makes 3 to 4 loaves):
6 1/2 cups of AP flour (if you scoop it out of the bag and level it off) OR 7 1/2 cups of AP flour (if you sprinkle flour into the measuring cup)
3 cups luke warm water (approximately 105 degrees, but I just chose a temperature that felt comfortable to the touch)
1 tbs salt
1 1/2 tbs instant yeast
In a 6 quart bowl, mix together the flour, water, salt and yeast.

Cover the bowl with plastic wrap and let the dough rise for 2 hours at room temperature.

Refrigerate the dough for at least 2 hours (or at most 7 days). Supposedly, the longer you leave the dough in the fridge, the more it tastes like sourdough (I've already made two of my three loaves, but I'm saving the last one for day 7).

When you're ready to make a loaf, sprinkle the top of the dough with flour and grap 1/4 to 1/3 of the dough.

Place the dough on a floured surface and roll it into a ball or a log (or whatever shape you choose). 

Place the dough on a piece of parchment paper, cover with plastic wrap, and let sit at room temperature for 45-60 minutes.

Preheat the oven to 450 degrees while the dough rests. If you're baking in a cast iron skillet, make sure to heat the skillet up in the oven before use.

Place a shallow pan on the bottom rack of the oven and heat up 1 cup of water in the microwave in preparation for baking the bread (I think this has something to do with getting the crust just right…). 

When the dough is ready, score the bread with a sharp knife (about 1/2 inch deep).

Place the dough (and parchment paper) in the cast iron skillet (or baking sheet) on the middle rack, and pour the cup of water into the pan on the rack beneath.

Bake for 25 to 30 minutes (until the crust is golden brown).

Remove the bread from the oven, let cool, and enjoy!

Print This BA Recipe