This post is dedicated to four friends:   one who wanted me to post something "accessible" for once, one who wanted a new dinner idea, one who recommended this dish a year ago, and one who gave me this 12″ cast iron skillet to use against home invaders in the Cleveland area.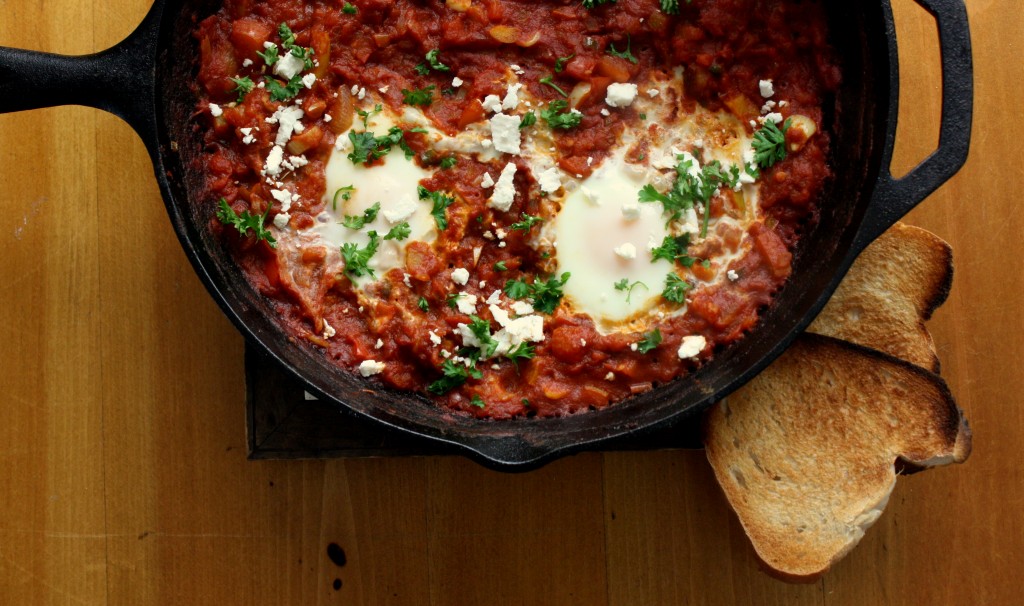 "Eggs in Purgatory" is actually a non-vegetarian dish of eggs poached in a meaty ragout—-lots of pork product incarnating a thick tomato stew.  Conveniently there's a Libyan version called Shakshuka which is made of a congregation of plant matter already populating our kitchen (see for yourself below–I got my mise en place except for the cheese and parsley).  I was worried that the end result would taste like Prego.  But the more spirited ingredients forced the tomato into a darker, lustier territory that seeped into the unassuming white of the eggs.  The actual recipe is more like Shakshuka, but "purgatory" sounds so much more…soulful.
Make this in about half an hour, and then serve it as dinner for 3-4 friends or as an appetizer for a larger party.  You can make it as spicy or mild as you like–Deb at Smitten Kitchen seems to think she underdid it on her first try, and I think I hit the upper limit of the average eater.  Whatever the eggs did to deserve this fate, sign me up.
Ingredients (thanks to Smitten Kitchen's version)
4-5 Tbsp olive oil
4 green chilis, chopped (you could also use jalapenos, but they're milder so use more)
1 medium yellow onion, chopped
1 1/2 bell peppers (they can be of any color)
6 cloves garlic, crushed and then sliced
1 tsp ground cumin
1/2 Tbsp chili powder
1/2 Tbsp cayenne
1 28 oz can crushed tomatoes
Salt and pepper to taste
6 eggs
1/2 cup cheese (I used Manouri, Deb used feta, you can use whatever you like)
toast for the eating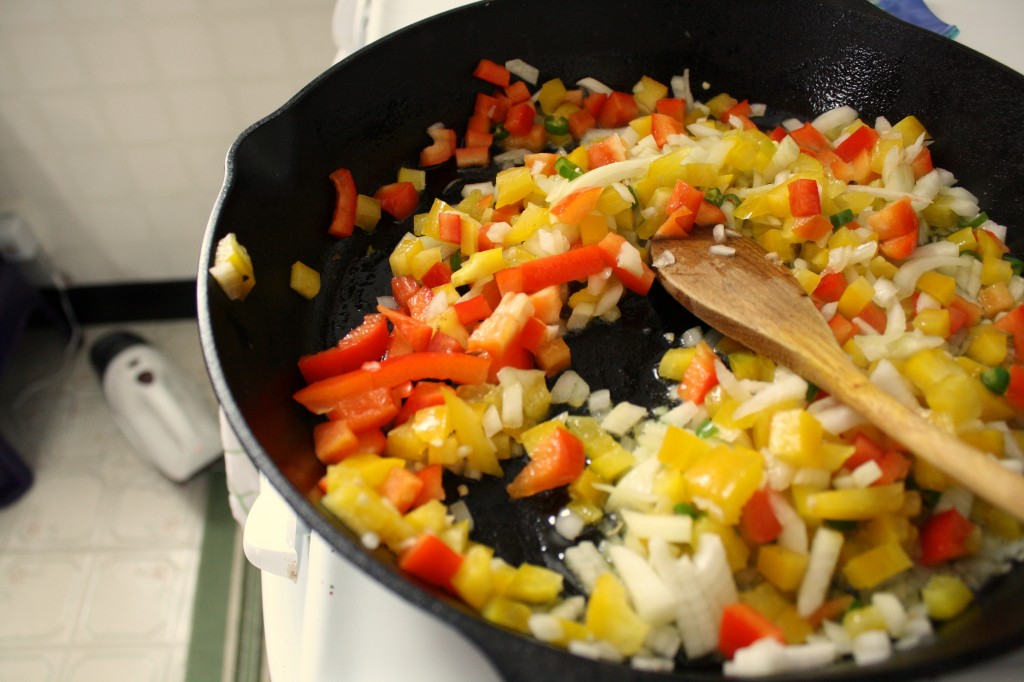 Heat the oil in a 12-inch skillet over medium-high heat.  Add the chilis, onion, and peppers and saute until fragrant and slightly translucent (5 min).  Add the garlic and continue to saute until the garlic has taken on some color (3 min?).  Add the spices, stir to toast them for about 30 seconds, then add the tomato and stir to mix.  Set the heat to medium and allow to simmer, stirring occassionally.  Feel free to taste it during the simmering to adjust your spices/salt.  I ended up simmering the sauce for about 20 minutes; it should be of a consistency that you could see yourself scooping into with a piece of bread without watery dripping.  Add a little more water if you think it's too dry for poaching.  Next, make six divots in the sauce, and carefully crack an egg into each of the divots.  Cover, and allow to cook (5 minutes for a runny yolk, 7-10 minutes for a set yolk).  Turn off the heat and garnish with

parsley

and cheese.  The best way to serve this is to set it in the middle of the table and allow people to help themselves.




Print This BA Recipe