I don't consider myself a chef, but I think I'm a pretty darn good cook. If you really stretch the term, you could even consider me a reluctant baker, but by no means can you consider me a griller. Aside from occasionally flipping a burger, I have only had one real grilling experience, and it resulted in a near "setting myself on fire" experience (who knew lighter fluid was so flammable?!). But it's not as if I don't want to learn.
In fact, one of the first purchases Anita and I made for the Braised Anatomy house was a very rusty, secondhand grill…and how many times have we used it? That would be a big fat zero (well, except for the time we got ambitious and used it to roast marshmallows).
All that being said (and the fact that it is so beautiful outside it pains me to cook in an enclosed kitchen), I've decided to take the plunge and finally break in the grill. And in our usual Braised Anatomy fashion, I am happy to present to you a delicious meatless, yet easily grillable burger.

Grill Seasoning Mix:
Equal parts onion powder, garlic powder, cumin, crushed red pepper, salt and pepper
Ingredients (makes about 5-6 burgers):
2 cups chickpeas
1/2 cup pumpkin
1 large egg
2 tbs diced green onions
2-3 cloves garlic
1 tbs grill seasoning mix
2 tbs flour
Chex, crushed
Whole wheat buns (or whole wheat English muffins)
Yogurt Spread (greek yogurt, za'tar, garlic powder, and sea salt to taste)
Sliced cucumber, tomatoes or lettuce, optional
In a food processor, combine the chickpeas, pumpkin, egg, green onions, garlic and seasoning mix.
Scoop out your mixture into a bowl and add the flour to thicken. Stir until combined.
Form patties out of the mixture and cover them in crushed Chex.
Refrigerate for 15-30 minutes (it helps the mixture hold together when you first place it on the grill).
Grill the burgers for 5-6 minutes per side.
Top with yogurt spread and any additional veggies you choose.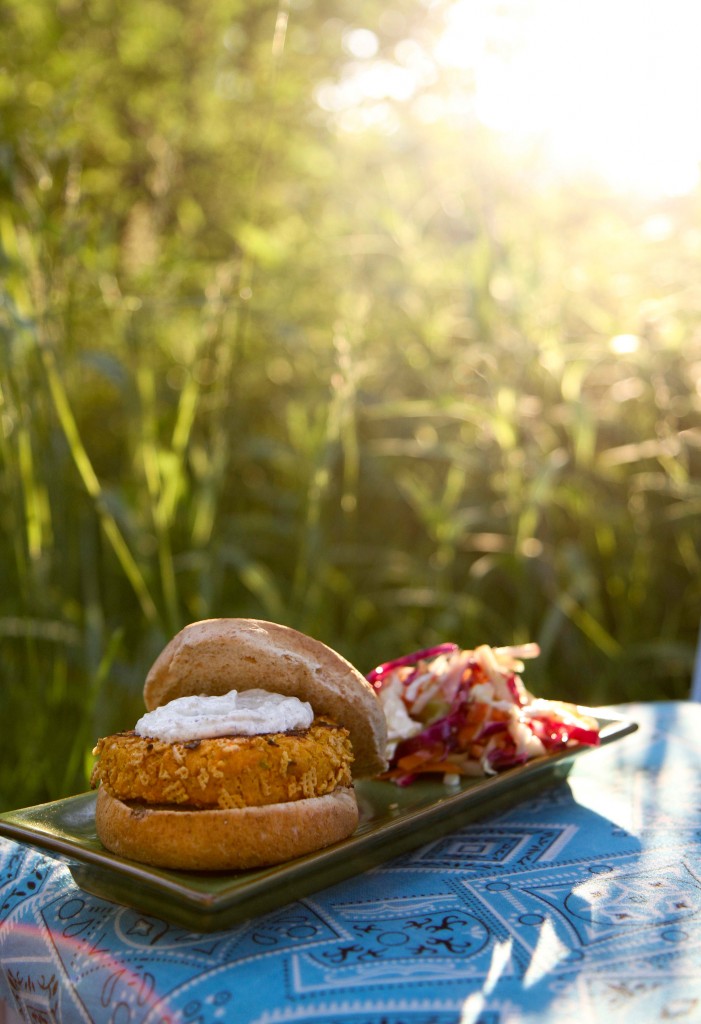 This post is part of the BlogHer Light & Fresh Summer Grilling series, which includes 100 percent editorial content presented by a participating sponsor. Our advertisers do not produce editorial content. This post is made possible by Michelob ULTRA Light Cider and BlogHer.

Print This BA Recipe