Not every recipe you try is gonna be a success. Not every successful recipe will be something you want to try again…
A couple of months ago my mom bequeathed to me one of her many fantastic thrift store finds – a cast iron skillet that looked like it had gotten into a fight with a mellon baller. With a little help from my dear friend google, I was able to figure out it was an aebleskiver pan. And what is an aebleskiver?? It's essentially a fried pancake ball. Well, with a definition like that, how could I resist a little culinary experiment?
The results: Are they delicious? Of course (fried balls of apples and dough?! how can you go wrong?). How about a pain in the you-know-what? More than I care to admit. Will I be making these again? Not any time soon. To be honest there was just too much oil in the recipe (even after I cut it in thirds) and it was way too much work for the final product. I will say that the batter itself is quite tasty and makes some delicious regular ol' flapjacks when cooked in a frying pan.
Oh well. At least I can now say that I know how to make aebleskivers…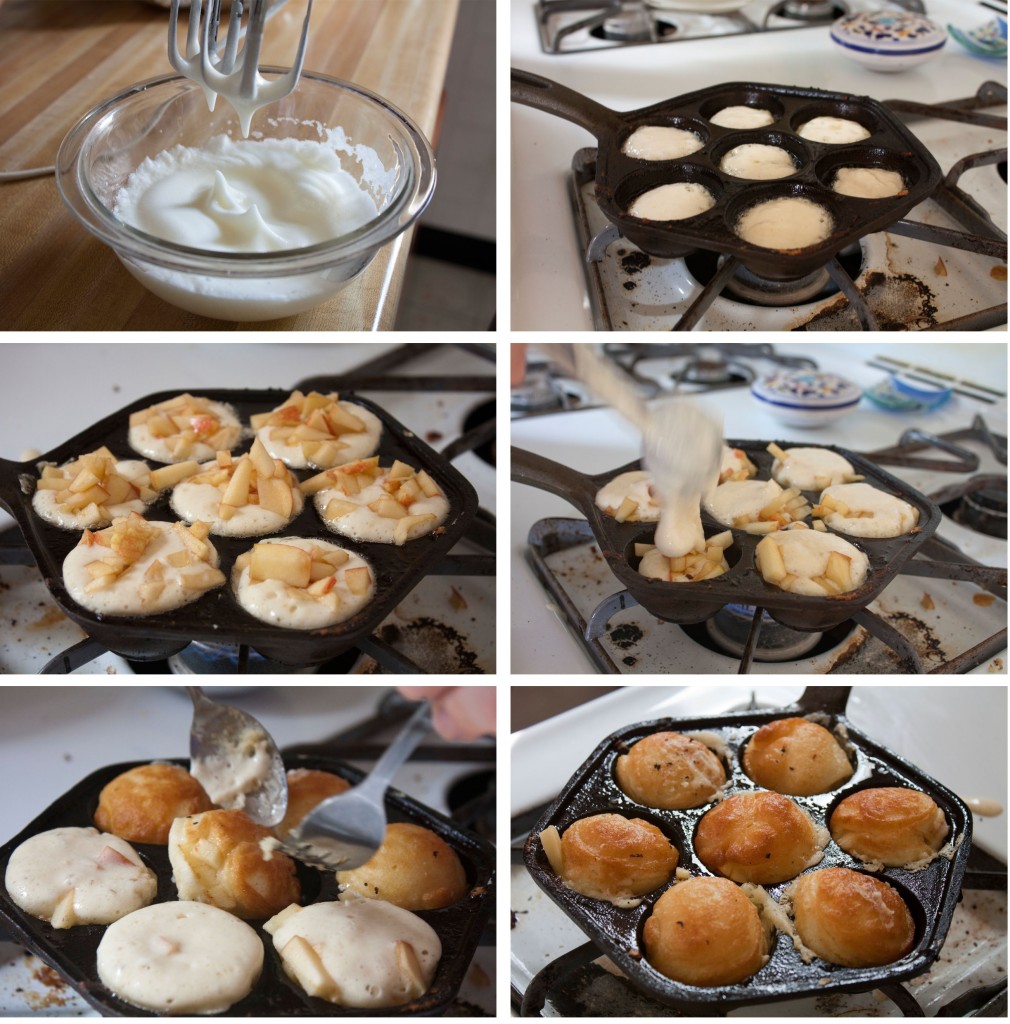 (Adapted from Allrecipes's Aebleskiver Recipe)
What you need (makes about 30 aebleskivers):
Using an electric mixer, beat the egg whites in a glass bowl until they can hold stiff peaks (see above).

In a separate bowl, mix together the flour, baking soda, salt, baking powder, sugar, egg yolks, butter and buttermilk. Beat until smooth. 

Gently fold the egg whites into the batter.

Spoon about 1 tsp of vegetable oil in the bottom of each cup in the aebleskiver pan and heat.

Pour about 1 tbs of the batter into each cup, add a pinch of apples to each cup then cover with another tbs of batter.

When the batter starts to bubble at the edges, use some sort of cooking utensil to flip them over (I used a fork and spoon, but traditionally you use two long knitting needles…I am anything but traditional).

Continue cooking until both sides are a light brown.

Tops with powdered sugar, whipped cream or maple syrup (or all three) and enjoy!

Print This BA Recipe