Case Med is all about self reflection and peer assessment. We are constantly being asked to evaluate not only our own performance in class but also that of our classmates. Along with quite a few "she talks a lot" and even one "sometimes she can be captain distracto" (that one's my personal favorite), I'm often told that I'm a very excited individual. To be honest, I'm not so sure that is always meant as a compliment, but I've decided to take it as one…mostly because it's true, and I don't want to do anything to change it.
When I come up with a new idea or decide I want to try out a new hobby, I get so excited that I become myopically focused on the new goal. A couple of weeks ago I decided I wanted to start biking, and within 2 weeks I had managed to acquire a new bike and all the amenities for a whopping $11.50 (no joke. you can find the best deals at garage sales). Same thing goes for my cooking. A couple of days ago I found a picture of mouth watering pasta. It was labeled "Lemon Garlic Pasta".  I had to figure out how to make it.
I was excited.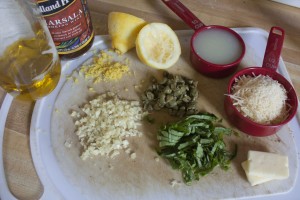 What you need:
1/2 lb linguini
1 tbs butter
1 tbs olive oil
2 tbs marsala (or sherry) cooking wine
2-3 cloves of garlic, minced
1/4-1/3 cup lemon juice (depending on how lemon-y you want it)
1/2 cup grated parmesan
2 tbs capers
10-12 basil leaves, chiffonade
zest from 1 lemon
What you need to do:
Boil water in a large pan/pot and cook the pasta until it's al dente. Drain and then set aside for later.
In a large sauce pan, sauté the garlic in the melted butter and olive oil.
Add the wine to the sauce pan and let cook for about a minute.
Turn off the heat and add the pasta back into the pan.
In a small bowl, combine the lemon juice, parmesan, capers, basil, and lemon zest then add the mixture to the pan. Stir to combine everything.
Give the cheese a minute or two to melt then serve and enjoy!

Print This BA Recipe