There's a clear expectation as an incoming medical school that you will have no free time. You enter you first day of school armed with your brand new laptop, more textbooks than you will ever have time to read, and the understanding that the next 4 years of your life will be devoted to little other than the pursuit of a medical education. Aside from a weekly call home to let your parents know you're still alive, you plan to cut all ties to other human beings (well except from your professors, your patients and possibly your roommate) and you accept the belief that the body really can survive on ramen noodles and frozen vegetables.
I'll admit that I came to Case with this expectation, but within the first couple weeks of school, I was pleasantly surprised to discover that the expectation proved false. I know that Anita and I sometimes use our posts to complain about the challenges we face in med school. We'll talk about the long hours, the difficulty we have with eating healthy foods given the hectic schedule, and how tired all of this makes us…but that doesn't change the fact that we're still writing the post. With relatively little difficulty, we find 5 hours every week to cook, photograph, (eat,) and write about our adventures in the kitchen. On top of this, we still have social lives. We still have movie nights, spend time with our friends, and even sometimes find a few minutes to work out. Sure the exams are difficult, and the hours are long, but I can honestly say that I am living a very fulfilling life – one that, given the opportunity, I wouldn't trade for anything (at least not for 2 more years).
In an attempt to combat this common misconception regarding the "typical medical student's life", one of our classmates took it upon herself to design a class that teaches first year medical students about "sustainable lifestyles". The class gives students the opportunity to speak with fitness instructors, professional study consultants (no joke, that position does exist), and even your very own Braised Anatomy team (we mostly just show the new kids how cooking for yourself is totally manageable with the med student schedule). This same talented medical student is also a whiz in the kitchen (it's because of her that we could bring you white bean hummus), and chose this week to demonstrate her skills with this delicious watermelon gazpacho. In making this dish, we literally gave it our blood, sweat and tears (see the image below for evidence of the blood), and it was totally worth it. I myself am new to the gazpacho scene, but I will certainly be making this for my parents when I head home next weekend.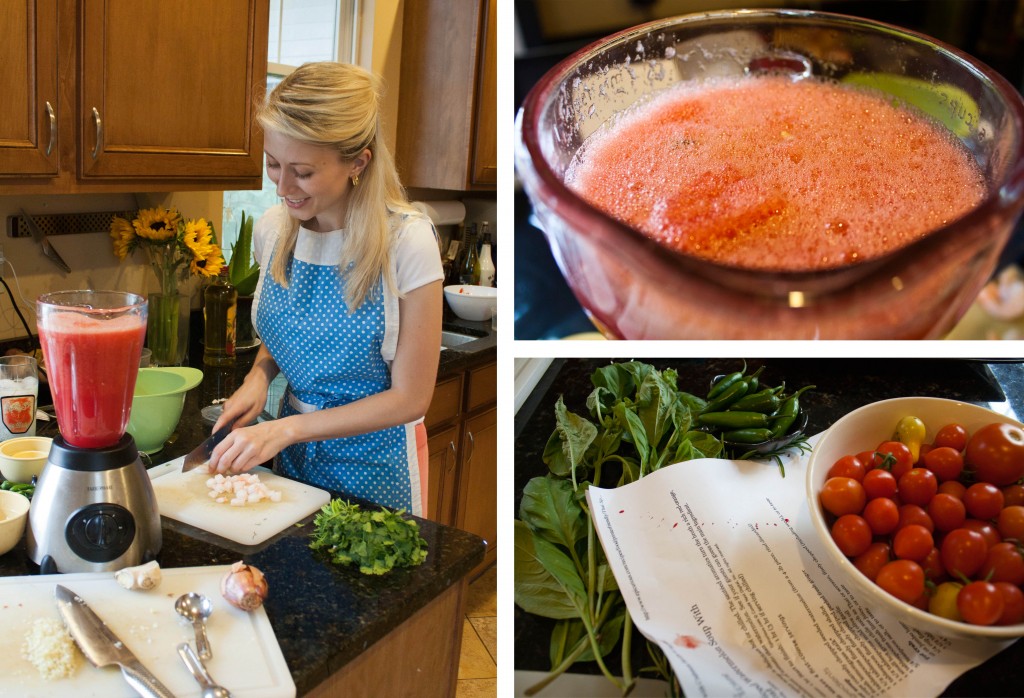 What you need (makes 4 servings):
5 cups chopped seedless watermelon (for us, this was about ½ a watermelon)
1 fresh lemongrass stalk (bottom 5 or 6 inches), minced
3 tbs minced shallot
1 ½ tbs minced fresh ginger
1 tbs minced garlic
1 ½ tbs olive oil
1 or 2 small hot green chilis (thai or jalapeño), finely chopped
2 tbs fresh lime juice
¾ tsp salt
2 cups cooked shrimp (or crabmeat), chopped
¼ cup chopped fresh cilantro
1 ½ tbs sesame oil
¼ tsp salt
What you need to do:
Chop up your watermelon and purée it in the blender until smooth.
Combine your lemongrass, shallot, ginger, garlic and olive oil in a large saucepan and sauté over medium to low heat (about 5 minutes).
Once the aromatics start to brown slightly, add about 1/3 of the watermelon purée and simmer on medium to low heat for about 5 minutes (be sure to stir as it cooks).
Remove the watermelon mixture from the heat and return it to the blender along with the lime juice, hot peppers and salt.
Blend mixture until almost smooth (I liked having little chunks of pepper and shallot). At this point you can choose to serve the soup as is, or chill it in the fridge for a couple hours.
When ready to serve, toss the shrimp in the cilantro, sesame oil and salt.
Spoon the shrimp into 4 bowls, cover with the watermelon gazpacho and Enjoy!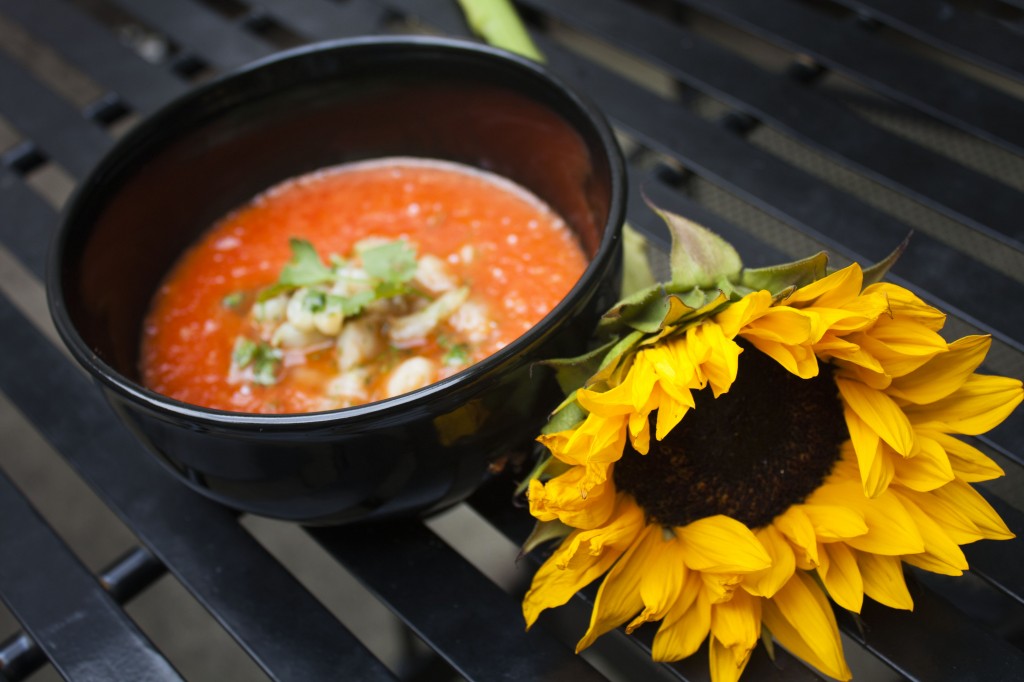 Print This BA Recipe