This is how Thanksgiving happens at my house:
Around 6 or 7 am – mom and dad wake up and start cooking
9 am – the kids wake up to the sound of a lot of banging pots and pans, and are tempted out of their warm beds by the smell of cooking food
9:15 am – kids wander into the kitchen in hopes that they will be able to sneak a little food
9:16 am – kids are told to "get out of the kitchen or else"
9:17 am – kids walk off in a huff, but settle down in front of the tv to watch the delightfully annoying Macy's Christmas Parade
9:18 am – mom and dad tell the kids to get off our butts and help out
9:20 am – 10:00 am – kids attempt to help out in the kitchen (peeling potatoes, cutting carrots, etc.) until mom and/or dad realize the kitchen is way too small to have 5 people trying to work at once
10:00 am – kids get a reprieve and are told to "go to homework or something"
10:00 am – 12:00 pm – kids "do homework or something"
12:00 pm – kids are bored and try to sneak some food.
12:00 pm – 2:00 pm – kids torment each other, while mom and dad continue to work in the kitchen
2:00 pm – kids get yelled at for tormenting each other and are told to set the table
2:00 pm – 2:02 pm – everyone oohs and aahs over the food
2:02 pm – 2:30 pm – silence. everyone is stuffing their face.
2:30 pm – onset of food coma…mom, dad and kids swear they can't eat another bit…but then the pie comes out.
Despite all the food we shove in our face, there's still always room for pie. My mom used to always argue that you only have room for dessert if you didn't eat enough of the "healthy" food…Evolution, however, would disagree with this belief. Turns out our bodies are actually designed to eat sweets no matter how full we already are. Given the high energy content of carbohydrate rich food (for example, pie), and the relatively low availability of these kinds of foods during "cave man" times, our brains developed so we will always be hungry for at least one slice of pie. So don't worry. Next time your mother tells you to stop trying to save room for dessert, tell her it's not your fault! Tell her to blame evolution, and then reach for a slice of sweet potato pecan pie.
What you need:
Dough: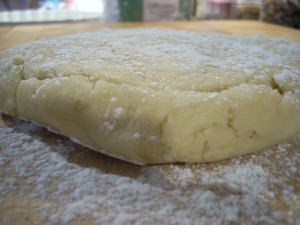 3 tbs unsalted butter, softened
2 tbs sugar
¼ tsp salt
½ whole egg, beaten until frothy the rest is for the filling)
2 tbs cold milk
1 cup all purpose flour
Sweet Potato Filling: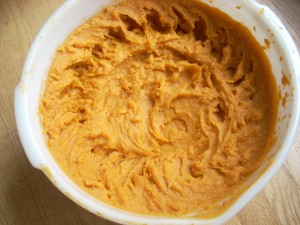 2-3 sweet potatoes (enough to yield 1 cup), baked
¼ cup light brown sugar, packed
2 tbs sugar
½ egg (from above)
1 tbs heavy cream
1 tbs unsalted butter, softened
¼ tsp salt
¼ tsp cinnamon
¼ tsp nutmeg
Pecan Glaze: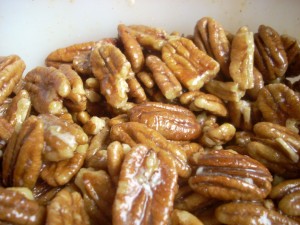 ¼ cup sugar
½ cup dark corn syrup
2 eggs
1 ½ tsp unsalted butter, melted
2 tsp vanilla extract
pinch salt
pinch cinnamon
¾ cup pecan pieces
What you need to do:
Dough:
Combine the sugar, salt and butter in a large mixing bowl, and beat on high until creamy.
Add the egg and beat for 30 seconds.
Add milk and heat on high for 2 minutes.
Add flour and beat on medium for 5 seconds, and then high until blended (about 5 seconds).
Remove the dough and shape it into a patty about ½ inch thick.
Dust the patty in flour, wrap in plastic wrap and refrigerate for at least 1 hour (you can leave it overnight if you want to prepare the dough before hand).
Once the dough is chilled, roll the dough out to 1/8 to ¼ inch thick.
Place the dough in a greased and floured 8'' cake pan.
Trim the excess dough and refrigerate for 15 minutes (I used the extra dough to make a small apple pie…there's no such thing as too many pies!).
Sweet Potato Filling:
Combing all ingredients and beat at medium for about 2-3 minutes until smooth (be sure not to overbeat the mixture).
Set Aside
Pecan Glaze:
Combine all ingredients except the pecans.
Mix thoroughly at a slow speed until opaque (takes about 1 minute).
Stir in the pecans and set aside.
Putting it all together…
Spoon the filling into the dough-lined pan (pile it up a little higher on the sides so the extra glaze doesn't run off the pan).
Pour the pecan glaze on top.
Bake at 325 degrees for about 1 ¾ hours.
Cool before serving.
Enjoy!

Print This BA Recipe