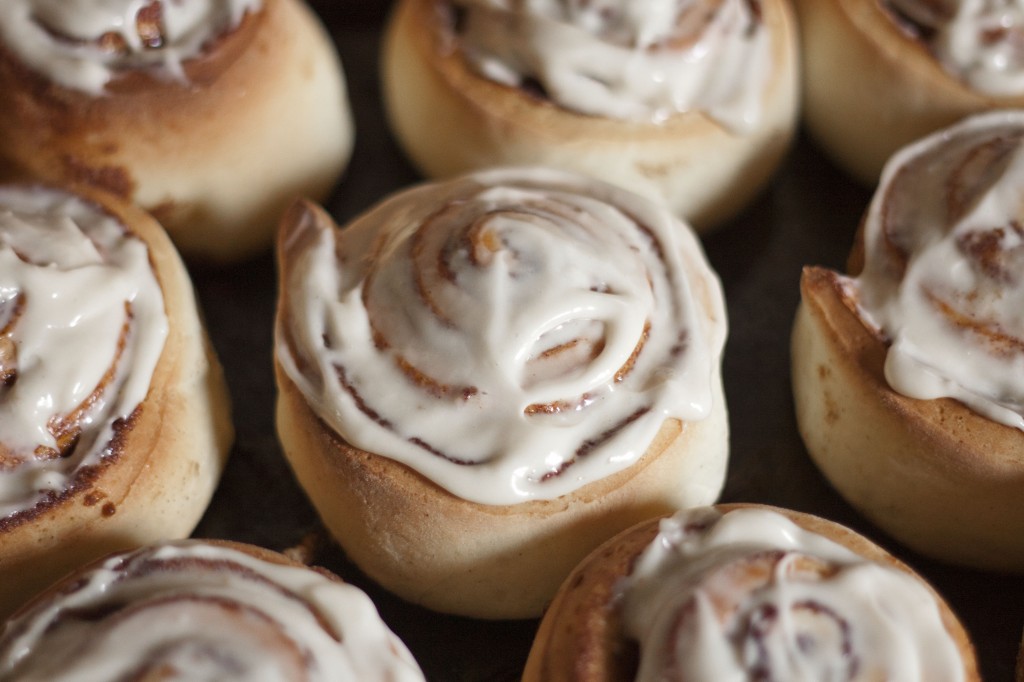 Good things come to those who wait…
I've waited for 20+ years to reach the point in my education where I could start to understand how the human body works. I'll wait patiently through a 8 hour surgery for the 10 minutes during which I get the opportunity to show off my mad suturing skills (mind you, those sutures should really take me 2 minutes…). So why not wait 2 hours for some delicious fresh-from-the-oven homemade cinnamon buns? The 500+ calories of sugary goodness make it totally worth it.
(Adapted from Clone of a Cinnabon)
What you need:
1 cup warm milk (110 degrees F)
2 eggs at room temperature
1/3 cup butter, melted
4 1/2 cups bread flour (bread flour makes the bus fluffier)
1 tsp salt
1/2 cup white sugar
2 1/2 teaspoons yeast
1 cup brown sugar, packed
2 1/2 tbs ground cinnamon
1/3 cup butter, softened
4 ounces cream cheese
1 tbs milk
1 tsp vanilla extract
1 cup confectioner's sugar
1/8 tsp salt
Place the warm milk, eggs, 1/3 cup melted butter, bread flour, 1 tsp salt, white sugar, and yeast in a bread machine in the order recommended by the manufacturer (I just added everything in the order listed above). Set the machine to "dough cycle" and press start.

After the dough has doubled in size, turn it out onto a lightly floured surface, cover and let sit for 10 minutes.

In a separate bowl, combine the brown sugar and cinnamon.

Roll the dough out into a 16 by 21 inch rectangle.

Take the 1/3 cup softened butter and spread it evenly over the rolled out dough.

Sprinkle the cinnamon sugar over the butter covered dough.

Roll the dough into a long tube, and cut it into 12 pieces.

Place the rolls in a lightly greased 9 by 13 inch baking pan, cover and let rise for another 30 minutes.

Preheat the oven to 400 degrees F.

Bake the rolls in the oven until golden brown (about 15 minutes).

While the rolls are in the oven, combine the cream cheese, milk, vanilla extract, confectioner's sugar, and 1/8 tsp salt.

When the rolls are done baking, coat them with frosting and get ready to enter a food coma.

Print This BA Recipe