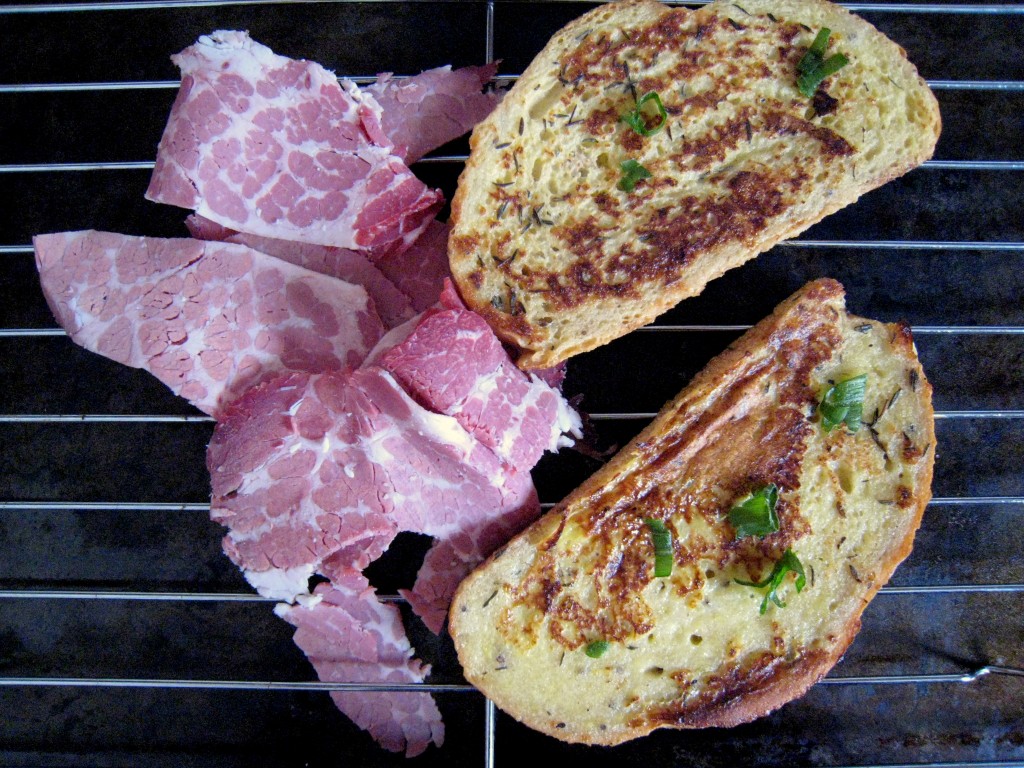 Yesterday at 9pm, Ari and I electronically signed our lives away to our future residency programs.  Senior medical students participate in a nation-wide match process, in which they rank the programs they've visited and the programs in turn rank their interviewees.  Starting now, I imagine some massive computer is busily stirring this huge pot of data, with the intention of churning out thousands of legally binding residency matches.  Until then, all that's left is the nail-biting.
This morning I decided to take my fingers out of my mouth and use up some leftover corned beef and rye bread from this week's Mr. Brisket run.  The result is a savory breakfast that I'll be making even when I'm not trying to keep my stomach out of my throat.
Ingredients (based on 2 pieces of toast – just double for 4, treble for 6, etc)
2 slices stale rye bread (just keep these bread pieces out on the counter top overnight)
1 egg
1 oz goat cheese, melted
3 Tbs milk
1 tsp dried thyme
1/2 tsp salt
canola oil
Preheat your oven to 375F.  Combine the egg, goat cheese, milk, thyme, and salt in a small bowl and use a fork to whip the mixture until homogenized and frothy.  Place the bread in a shallow pan and pour the egg mixture over them.  They won't be completely covered, so spoon the runoff over the slices.  Flip the slices over and do the same.  I'm pretty sure the slices can hold the entire mixture, so try to use everything up.
Heat a skillet on the stove over a medium flame and coat the skillet surface with oil (this is important…butter does not brown the bread as well as oil does).  Transfer both bread slices to the skillet and allow to cook 1-2 minutes on each side until browned.  Transfer the bread slices to a wire rack and put the rack into the oven.  Bake for 5 minutes so that the egg can set up within the bread.  Serve warm with butter (or assorted deli meats!).

Print This BA Recipe