If recipes are the original music, my mom is the remix DJ.  She'll often find something, pick out the elements that she likes, and put in her own flare.  One thing she does to a lot of her recipes is to "Indianize" them.  For the uninitiated — this means more garlic, more spices, a good sear on any onions, and a subtle dialing-back of some of the ingredients that would have been the major flavor.
This is a French recipe with Indian undertones: Friendian.
The result:  Wicka wicka wicka chicken!?  Yeah.  That just happened.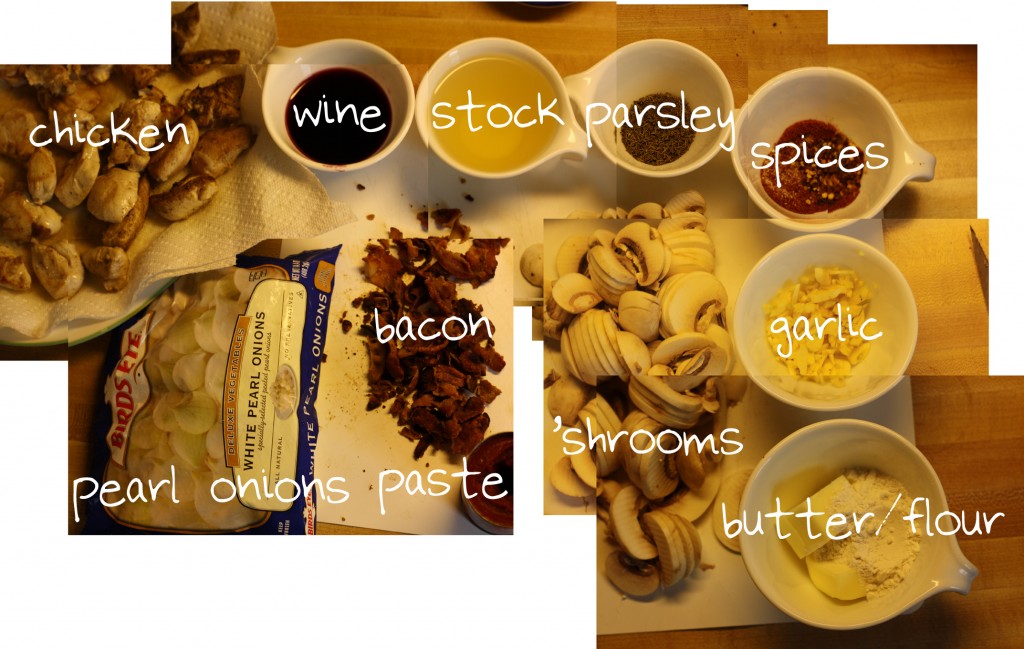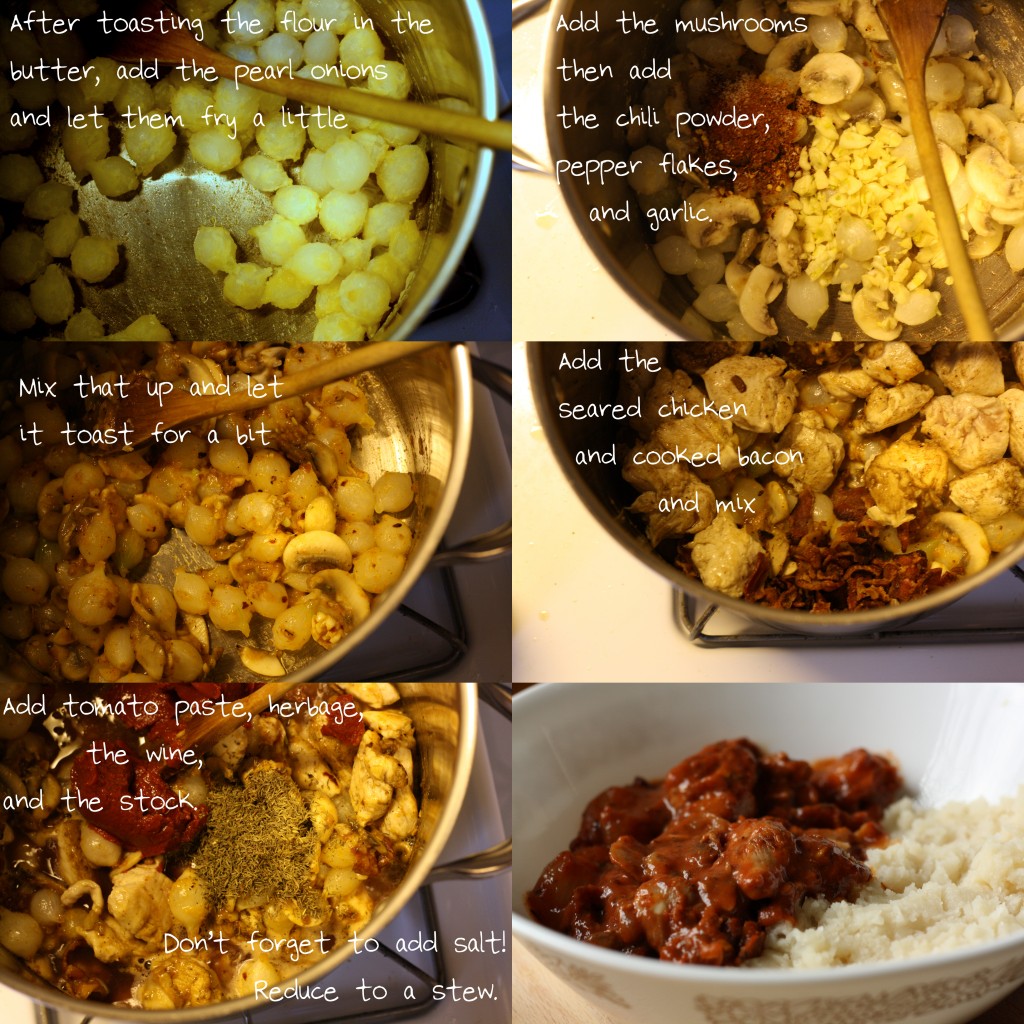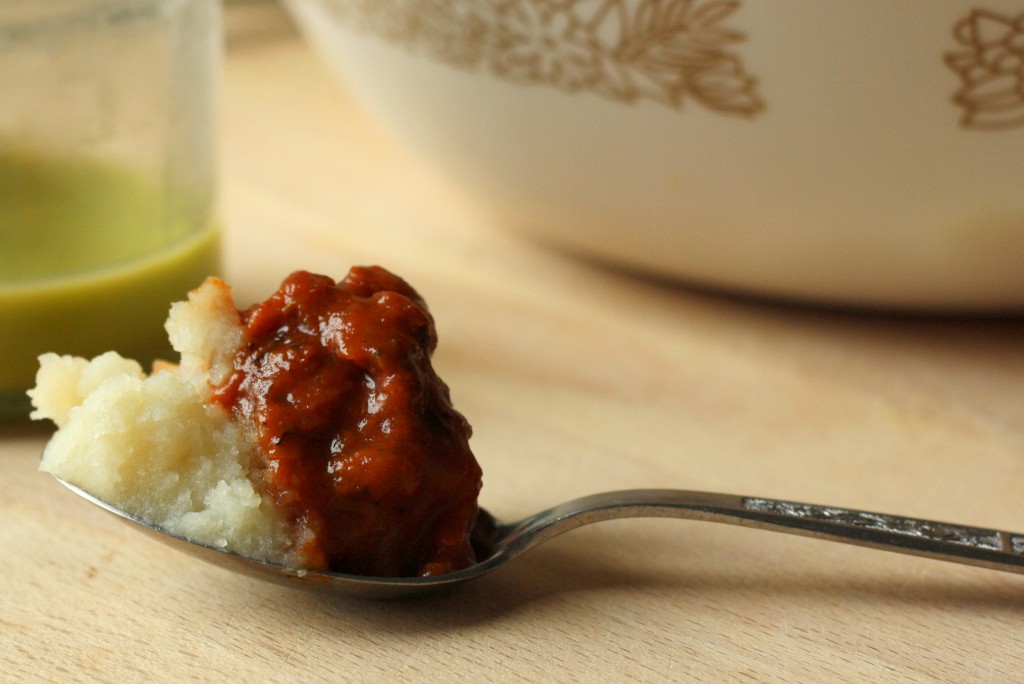 Ingredients
2 Tb olive oil

4 ounces  (1/4 lb) bacon (I got this at the deli counter, it was about 4 slices)
1.5 lbs boneless, skinless, chicken thighs cut into three pieces
2 tablespoons unsalted butter, at room temperature
1.5 Tb all purpose flour
1 bag frozen pearl onions
1/2 pound white mushrooms, washed, stems removed and thickly sliced
1.5 Tb kosher salt
1 tsp ground black pepper
7-8 garlic cloves, minced
1 tsp chili powder
1 tsp red pepper flakes
1 6oz can tomato paste
0.5-1 cup red wine (feel free to use cheap stuff, just taste it first)
1-2 cups chicken stock
3 tsp dried thyme or parsley
Heat the olive oil in a dutch oven or other large pot.  Fry the bacon over medium heat, turning with tongs, until it begins to brown, then transfer to a large plate lined with paper towels.
Lay the chicken pieces on paper towels and pat dry.  Sprinkle the chicken with salt and pepper.  Sear the chicken on both sides in the bacon fat, titrating the heat of the oil to prevent burning.  Due to water in the chicken you may want to shield yourself with a pot lid.  Remove the chicken to the same plate as the bacon.
Pour the remaining bacon fat out of the dutch oven.  Add butter over medium-high heat and let it melt.  Stir in the flour until you get a "toasty" aroma from the flour cooking.    Add the mushrooms and allow them to slightly brown before adding the onions, salt, and pepper; continue to cook and stir intermittently until the onions become translucent.  . Add the garlic, chili powder, and chili flakes and cook for 1 more minute.
 Add  the bacon and chicken and stir.  Add the wine, chicken stock, and thyme and bring to a simmer for 15-20 min; you may want to add more stock so that at the beginning of the simmer you have a soup and at the end you have a fairly loose stew.  Taste to see if you want to add more wine, garlic, or salt.
Serve on top of mashed potatoes.

Print This BA Recipe