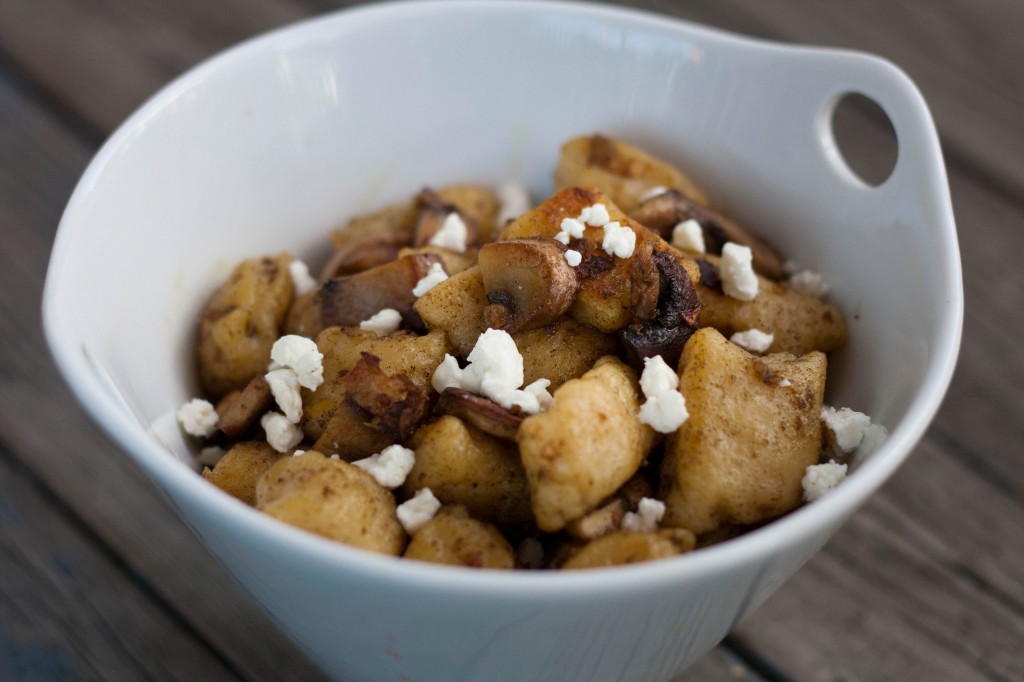 As promised, here is the first recipe featuring homemade pumpkin purée. This is inspired by one of my favorite Cleveland restaurants – Sweet Melissa. While I don't for a second claim that this recipe is quite as good as their Pumpkin Sage Gnocchi, it's nevertheless pretty darn tasty.

Ingredients (makes 8 servings)
2 cups pumpkin purée (homemade or from a can)
1 1/2 cup ricotta
3 eggs
3 tsp kosher salt
1/2 cup grated parmesan
5-6 cups all-purpose flour
2/3 cup butter + 1 tbs for mushrooms
2 tsp dried sage
5-6 cloves garlic, minced
16 oz sliced mushrooms
Goat Cheese (as much as you like)
Salt and Pepper to taste
In a large bowl, mix together the pumpkin, ricotta, eggs, salt, and parmesan.
Add 2 cups of flour and mix well. Continue adding flour, 1 cup at a time, until the dough is manageable but still pretty sticky (it took me 6 cups of flour).
Coat the dough with flour, knead into a large ball and cut it into 7-8 even pieces.
Roll each section out into a long rope about 1 inch in diameter, and cut into 1/2 inch pieces.
You can either freeze the uncooked gnocchi on a cookie sheet (make sure they're not touching) or cook them right away by adding them to boiling water and letting them cook until they all float to the top (cook 1/3-1/2 of the total gnocchi at a time).
While the gnocchi are cooking, sauté the mushrooms in 1 tbs butter…when it comes to adding the mushrooms, butter and garlic to the gnocchi, I recommend cooking everything in 2 batches (as described below).
In a cast iron skillet, slowly brown 1/3 cup butter.
Add 1 tsp sage and 1/2 of the garlic, and sauté until fragrant (be sure not to burn the garlic!).
Add the salt, pepper, 1/2 of the cooked gnocchi and 1/2 of the mushrooms to the butter and garlic and continue cooking for 3-5 minutes.
Serve the gnocchi and mushrooms topped with crumbled goat cheese.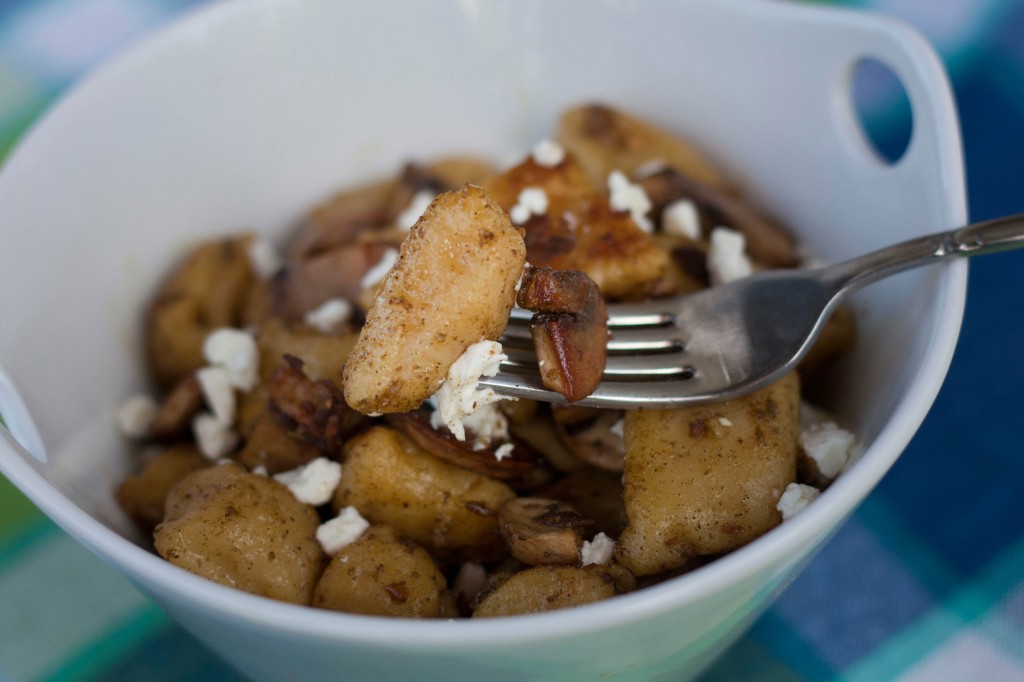 Print This BA Recipe