In keeping with the recent basil theme, I'm excited to present you with a basil-y twist on an old favorite – the snickerdoodle. But do you really want to mess with butter-y, sugar-y, cinnamon-y perfection? Yes…if you get to add basil-y to the description.

And this isn't the last basil inspired recipe you should expect to see in the next couple weeks. As summer draws to a close (I hate to admit it, but it's true), I no longer feel guilty cutting down my basil plant in preparation for transferring to my mom's awesome thriftstore find of an aerogarden for $3. Win (on both accounts)!
Ingredients:
3 cups all purpose flour
1 tsp baking soda
1 tsp cream of tartar
1/2 tsp salt
1 cup (2 sticks) butter, softened
1 1/2 cup sugar
1/2 cup loosely packed basil, finely chopped
2 eggs
1 tsp vanilla
Cinnamon Sugar (4 tbs sugar, 1 tbs cinnamon)
Preheat the oven to 375 degrees F, and grease or line your cookie sheet with a silicon mat/parchment paper.
In a large bowl, combine the flour, baking soda, cream of tartar and salt.
In a separate bowl, beat butter for 30 seconds, then add sugar and beat until fluffy (2-3 minutes).
Add the eggs and vanilla to the butter and sugar mixture; beat well.
Add the butter mixture and basil to the dry ingredients, and mix for another minute or so.
Form dough into tablespoon-sized balls and roll in the cinnamon sugar mixture.
Place 2 inches apart on sheet.
Bake for about 8-10 minutes, let cool and enjoy!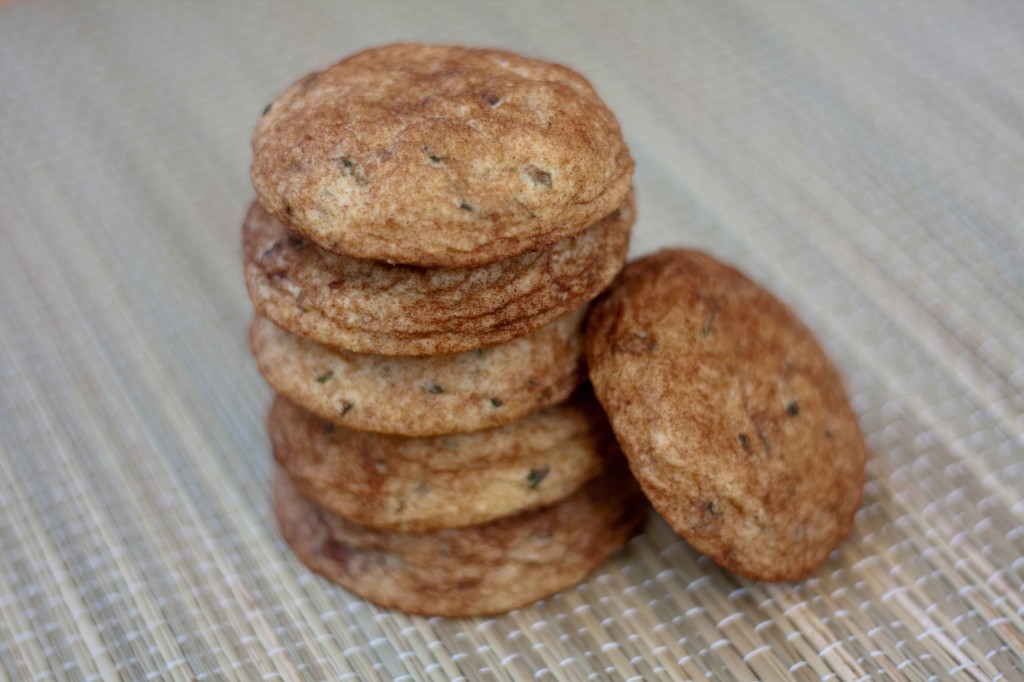 Print This BA Recipe