Sometimes I picture this conversation taking place between the sweet potato and the baked potato – "Anything you can do I can do better. I can do anything better than you…"
I don't mean to be rude to the baked potato (trust me, I love a good baked potato), but can you really turn down it's better looking/tasting twin? Okay. Fine. I'll admit it. I'm a potato-ist.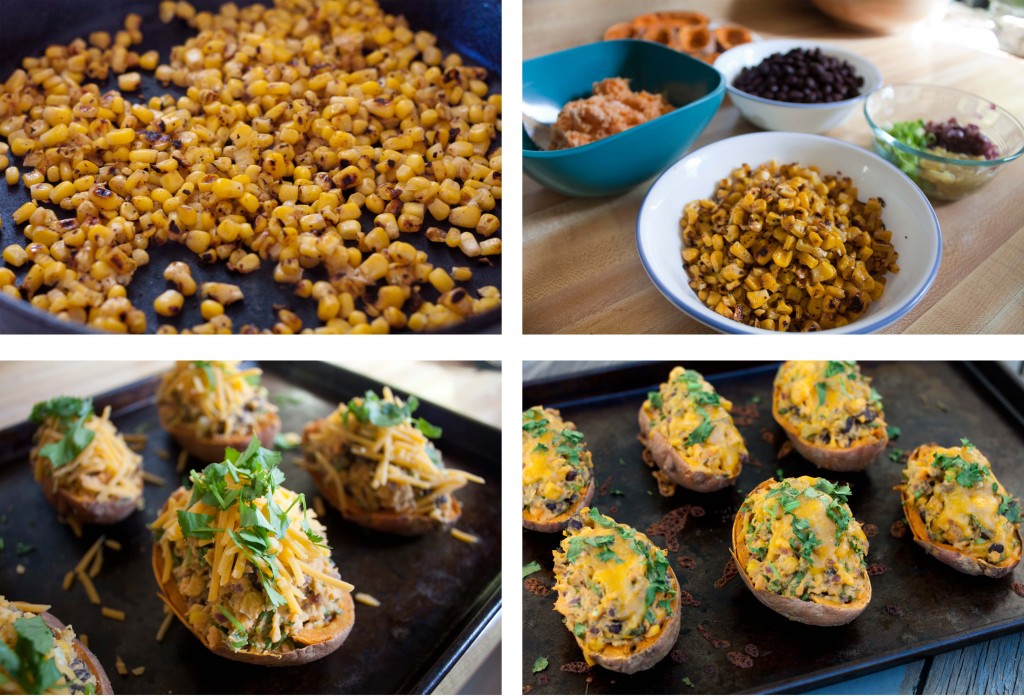 (Adapted from Pinch of Yum)
Ingredients (makes 6 potato skins):
3 medium sweet potatoes
1 can corn, rinsed
1 can black beans, rinsed
1/2 yellow onion, diced
4 oz can of green chilis, diced
2 tbs cream cheese
1/4 cup sour cream
1 tsp salt
2-3 green onions, diced
cilantro, chopped
Shredded cheese
Preheat oven to 350 degrees, and bake sweet potatoes for 45-60 minutes (or if you're feeling lazy like I wan, you can microwave each potato for 4 minutes then bake for about 20 minutes).

Place corn in a heavy cast-iron skillet over medium heat. Sprinkle with salt, cayenne, cumin, coriander, etc (whatever you like). Let corn roast for several minutes before stirring. After stirring, let roast for several more minutes. Continue until roasted to your liking.

Sauté onions in butter until soft.

Once potatoes are cooked, slice in half and scrape out the insides into a separate bowl. Be sure to leave the skins intact. 

Combine the sweet potato innards (that sounds gross) with the cream cheese, sour cream, green chilis and salt.

Add in the black beans, corn, yellow onions, green onions and cilantro and continue to mix until well combined.

Add the mixture back into the potato skins, top with shredded cheese and cilantro, and bake for another 5 minutes until the cheese is melted.

Serve as an entrée or as a side dish and enjoy!

Print This BA Recipe